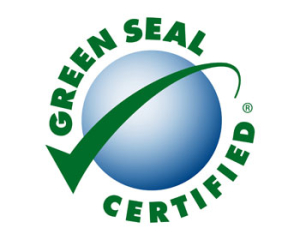 Green Cleaning can be defined as "cleaning that protects health without harming the environment."  We at J&E Associates believe it will be a requirement for all Building Contractors in the future but we are not waiting.  We have already started integrating Green Cleaning into our work for our customers.  We offer chemicals that are "Green Seal Certified" and do not sacrifice effectiveness.
We believe it is important to do our little bit to help protect our environment, but it also benefits you the customer:
Improve indoor air quality
Promotes safer and healthier work environment
Increase work productivity
Reduce sick days and associated health care cost
Peace of mind
Minimizes exposure to aggressive chemicals
Reduces water and air pollution
Reduces waste with concentrated products
Reduce packaging waste with recyclable packaging
Our ultimate goal is to keep your facility clean and protect human health!
Ask about our Green Seal Certified chemicals !